---
Shenandoah Farm Land by Price
---
Shenandoah Farm Land by Acreage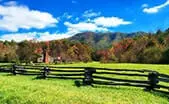 Under 50 Ac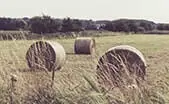 50 – 100 Ac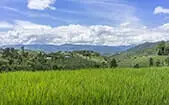 Over 100 Ac
Shenandoah Valley Farm Land for Sale
Whether you're a serious and experienced farmer looking to develop a new operation or a beginner interested in opening their first farm, look no further than the Shenandoah Valley. The crown jewel of Virginia farm land, the Shenandoah Valley has been home to some of the state's most productive soil for generations. Here at Virginia Estates, our roots in the Shenandoah Valley run deep, and we're eager to lend you our expertise to navigate our extensive listings and help you find the property you've been searching for.
For centuries, if not millennia, Shenandoah Valley farm land has been an agricultural powerhouse. Nestled in the valley between the Blue Ridge and Allegheny Mountains, the region is a natural grassland boasting uniquely rich soils and abundant clean water from the Shenandoah River that flows through it – it's no wonder the region has been supporting thriving agricultural communities for generations. Since the earliest human settlements in the region, the Valley landscape has been defined by lush croplands and successful farmsteads – a tradition that continued through early American colonization and into the 21st century. Even today, the Shenandoah Valley is home to four of the top five agricultural counties in all of Virginia, and remains the top region in the state for total value of agricultural products sold. And with such a stunning landscape, marked by sublime mountain vistas and verdant fields, the natural charms make for a pastoral oasis in the heart of the country's most ancient mountain ranges.
With such a legacy, it's clear why so many farmers seek out Shenandoah Valley farm land – thanks to its unique position and incredible natural bounty, the region has always had enormous productive potential. But this is true now more than ever before! Organizations like the Shenandoah Valley Partnership and Valley Conservation Council are taking new steps to support agriculture in the Valley, both on the business side of the operations and on the ecological side to ensure that farmers and the land alike can thrive sustainably for the future. For novices and experienced farmers alike, there's never been a better time to take advantage of what this unique region has to offer.
We're proud to offer so many diverse properties of Shenandoah Valley farm land. Blessed with gorgeous mountain views and sprawling fields, the natural beauty and fruitful land make the Shenandoah Valley a remarkable place to both live and work. And with its uniquely rich soil, these properties can support thriving pastures for livestock, productive croplands, spacious fields for horse farms and beyond. The incredible natural bounty offers nearly limitless potential for development to suit your vision. But even on top of this natural bounty, we're proud to offer listings with homes and barns to suit your personal taste, as well. From quaint cottages to modern and stylish farmhouses alike, you'll find the charms of quintessential country living all with the unique flair of the Ridge and Valley. From size to location, type of land to style of home, we're eager to partner with you to bring your farming vision to life in the Shenandoah Valley.