---
Staunton Farms for Sale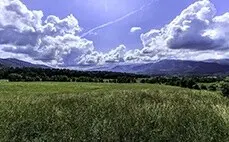 $500K to $2M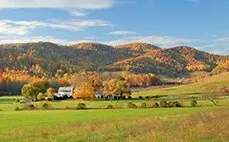 Over $2M
---
Staunton Farms By Acreage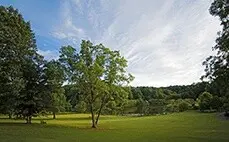 5 to 25 Acres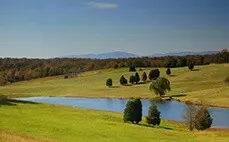 Over 25 Acres
Staunton, VA Farms for Sale
Virginia Estates specializes in finding, researching and brokering the sale of Virginia Land, Farms, & Estates. Our expierence, resources, and diligence on behalf of our clients in finding their ideal farm or farmland is unparalleled in the region.
The Farm Life in Staunton, Virginia 
Staunton, Virginia is a charming town located in the Shenandoah Valley. It is home to some of the most beautiful farms and farmland that you will find. If you are looking for a Staunton Farm for Sale but haven't quite decided what type of farm is for you, read below about 5 varieties located in and around Staunton, Virginia.

Staunton Farm Tour 
Polyface Farms 
The farm was begun by the Salatin family who believed that there was a better way to farm. They implemented best-practices in sustainable farming and are open to the public. They encourage free self-guided tours of their farm. Lectures, private tours and "lunatic" (hay wagon) tours are available for those who would like a more in depth look at their farm and sustainable farming techniques. What child doesn't like camping? Polyface Farm hosts a summer camp program which educates children about sustainable farming practices through projects and activities. Before you leave, you will want to stop by their store to purchase pasture-raised, hormone and antibiotic free chicken, beef, pork and eggs. 
Wade's Mill
Wade's Mill has been in business as a working mill since 1750. Their 100% whole grain products are produced without preservatives or bleaches. The mill is open to the public who are encouraged to "mill around" and explore all three floors of the mill, equipment and museum displays. The historic water wheel mill operates on Saturdays and Sundays from 10am until noon. Have you always wanted to run a historic mill? Arrive early and the Miller may ask you to start the water wheel.  Want to know more? Guided tours are available for groups of 8+ people. Whether you take part in a self guided tour or participate in a guided tour be certain to purchase some bags of freshly ground grains from the mill before you leave. 
Visit farm animals 
Mt. Crawford Creamery
Mt. Crawford Creamery prides itself on the care it takes of it's farm and cows. The farm does not give their cows growth hormones and antibiotics are only used as necessary if an animal is ill. The milk the cow produces during the 4 days after the last dose of antibiotic treatment is discarded. Pay a visit to the dairy to buy fresh milk, butter and other dairy products. Enjoy a self guided tour of the farm and stop by to say hello to the baby calves. If you can be at the farm around 3pm you may be able to help feed the baby calves and then stick around to watch the cows being milked at 3:30pm. The creamery does provide scheduled tours which include a history of the farm and creamery, a visit to the milking parlor, a visit with the calves and a sampling of delicious dairy products. On your way home, be sure to stop in to Smiley's Ice Cream shop located on the grounds of Mt. Crawford Creamery for the freshest ice cream you can eat. 
Start your own garden
JMD Farm Market & Garden Center 
The Center grows a variety of perennials, annuals and vegetables on their farm and in their greenhouses for you to purchase. The flowers and vegetables will keep your home and garden in color all year round. In the JMD Market you will discover a variety of pottery, hand crafted and locally made items as well as plants and seeds for all of your landscaping and gardening needs. On your way out, stop at their shop to purchase seasonal produce, meats, eggs, local honey and to relax with a glass of wine while the kids enjoy running around on the small natural playground. 
Pebble Hall Wildflowers and Herbs 
Come and enjoy a day wandering through wildflowers and herbs. For a $5 fee, you can spend the day wandering the 1/2 mile loop through flower fields and stop into the nature museum, on-site greenhouse and silo. The fee includes a small pick your own bouquet of flowers and herbs. Larger bouquets are an option and prices can be found on the sizing guide in the flower shop. Pebble Hall encourages guests to take their time exploring and encourages you to enjoy a picnic on the farm. Pebble Hall is animal and kid friendly making it a perfect outing for the whole family.
Farming in a historic and beautiful area like Staunton can be a wonderful and rewarding adventure. As you search for Staunton farms for sale, what type of farm will you choose? 
FAQ's

What are the top 4 Virginia farm commodities?
Broilers (chicken)

Cattle and calves 

Greenhouse/Nursery

Dairy Products, Milk

What qualifies as a farm in Virginia according to Virginia Code – one or more areas of land used to produce, cultivate, grow or harvest agricultural products.(Va. Code 46.2-698)
The average cost of an acre of Virginia farmland is $4,650.

The average farm size in the state of Virginia is 181 acres

There are approximately 43,225 farms in Virginia.