Exploring and Living in Williamsburg
Exploring and Living in Williamsburg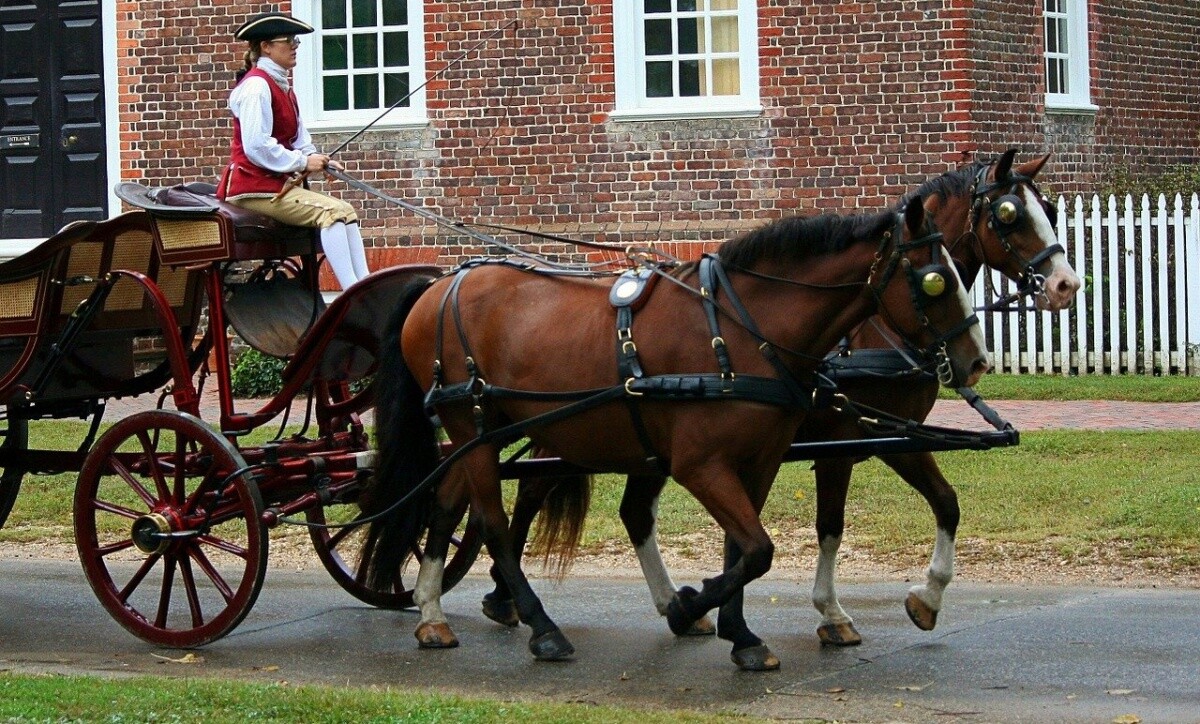 Williamsburg Living
Whether you're looking into single family homes on the green, country club estate parcels, an entire farm, or potential business and investment properties, you will almost certainly be interested in what the immediate and surrounding areas have to offer yourself and what may also entice clients and employees. Work isn't as much fun if you don't add some play into the mix. What a perfect opportunity and reason to schedule a visit to Williamsburg, Virginia. Welcome to another edition of our Exploring Counties Series: City of Williamsburg.
America's Historic Triangle in Virginia encompasses all three colonial communities of Jamestown, Williamsburg, and Yorktown. Named after King William III, Williamsburg still holds an air of nobility. Beyond the cobblestone streets with horse-drawn carriages, original buildings containing period businesses, and rough cut rail fences keeping the small herd of sheep at bay, the living museum of Colonial Williamsburg, and one time capital of Virginia, is surrounded by a number of enviable commercial and residential properties. The Peninsula Region, as it is referred to by locals, of Hampton Roads is bordered by the York River on its Eastern side and the "mighty" James River on it's Western reaches. Between the two rivers, the lush hard and soft wooded forests and saltwater tidal creeks, bays, and marshlands have been touched by man, even before the landing of the Susan Constant, the Godspeed, and the Discovery, in 1607. But, between the business and college districts , golf courses, historical colonial areas, suburban residential areas, and theme parks, the beauty of an almost primeval environment still captures and holds your attention.
The economy and culture of Williamsburg is alluring, and also quite unique, for those wishing to start-up or invest in local businesses. Various quantitative and qualitative statistics provide the basis for a broad range of small and large scale opportunities. The region brings in approximately four million visitors each year. Located halfway between Richmond and Norfolk, Virginia, Williamsburg is poised adjacent to the heavily traveled I-64 corridor. In fact, the continual increase in traffic volume has necessitated the state to widen I-64 from Newport News, twenty miles east, all the way to Williamsburg, a project which began over two years ago.
Tourist attractions such as the Historic Triangle colonies themselves, premier golf resorts, Busch Gardens theme park and Water Country USA water park, local beaches and those of nearby Hampton and Virginia Beach, The College of William and Mary, and numerous military bases including Fort Eustis, Langley Air Force Base, Norfolk Naval Station (the largest in the entire world), Oceana Naval Air Station, and Yorktown Naval Weapons Station provide an unprecedented amount of transient traffic. Due to these factors, there is a constant revolving door of potential customers to spend on accommodations, entertainment, dining, and shopping. Data collected showed that in 2010, tourism expenditures were nearly $1 billion for the Historic Triangle, and almost $4 billion for the Hampton Roads region.
 The rapidly growing permanent resident population also opens up possibilities for new or expanding businesses. The U.S. Census revealed a 14% population increase from 2000 to 2010. The prevalence of young adults, 46% aged 18-24, is an excellent marketable target group. In 2010, the median household income in Williamsburg was $71,000, 20% above the national average. The top 20% of households earned $150,000 or more. Also worth noting, is the almost 12% aged 65 years or older category. Surveys have shown that a significant number of people from this age group in Williamsburg, who were drawn to the area for retirement, receive a considerable amount of income from investment sources, which would indicate they are financially well off and would be inclined to more discretionary spending. Again, using data from 2010, retail sales were $339 million and $5.5 billion in the city of Williamsburg and the Peninsula, respectively. To put this into perspective, Williamsburg's population ranked the 100th largest locality in the state, while their per capita sales were 7th.
If you are looking to relocate with children, good schools are a must. Magnet school James River Elementary, which incorporates the International Baccalaureate Primary Years Program, is one of only five schools in the state to offer the advanced structured regimen. Lafayette and Jamestown High schools, also operated by the Willamsburg-James City School System, are rated above average. The summer school only in-residence program for the Governor's Mentorship in Engineering is held at the College of William and Mary, and the standard academic year New Horizons Governor's School for Science and Technology is located in nearby Hampton. The area also has many private day and year round schools.
Permanent residents and visitors alike may have varying financial capabilities, but several businesses have established and positioned themselves to attract and cater to more affluent demographics. Several top rated golf courses and resorts are located in the immediate vicinity and within fifteen miles of Williamsburg. Exclusive activities such as private sailing and fishing charters, pampering spas, or simply sampling fine beers, ciders, meads, or wines, and indulging your craving to shop for antiques or goods at eclectic galleries and chic stores are just a few other pursuits to make a perfect weekend. When it's time to eat, independently owned and operated fine dining and gourmet restaurants, as well as those associated with clubs and resorts, are not difficult to find.
If you consider yourself a pro, or you need to dust off the clubs in the basement, Golden Horseshoe Golf Club. Winner of Golfweek's 2019 Best Resort Courses, Golden Horseshoe offers three distinct courses for varying levels. The Gold Course, reopened in 2017 after a massive renovation "presents a visually exciting challenge, and is uniquely memorable in its own right." The Green Course was designed and engineered for golfers of any skill level. If you're trying to squeeze in a quick round before a meeting, only a par-31 course, The Spotswood Course was named "best short nine-hole course in the country" by Golf Magazine. If you have the time in the evening, the Rockefeller Room serves decadent main dishes such as Lamb Shoulder Roast and Loch Duart Salmon.
Ford's Colony Country Club offers more exciting courses to play. With three courses and 54 holes to play, this semi-private club will never bore you no matter how many times you come back. For twelve years in a row, Ford Colony's Marsh Hawk course was the Monday Qualifier for the PGA Tour's Michelob Championship. If you worked up an appetite, the members-only Colony Room offers succulent plates such as Grilled Bacon Wrapped Filet Mignon or Roasted Portobello Wellington. Other notable courses around Williamsburg include Kiln Creek Golf Club and Resort, Kiskiack Golf Club, Newport News Golf Club at Deer Run, and Williamsburg Golf Club.
The large open water of the Chesapeake Bay, and even the tidal areas of the James River and York River, are meant for water sports. You can always, of course, drop a bottom rig and fish for croakers and spot or set a crab trap. But if you really want to up your saltwater game and amusement, hire a fishing charter or reserve a private sailboat tour. Rated five stars with over fifty reviews and multiple locations, including Gloucester Point and Yorktown, convenience and expertise are just a few miles away. With one 25' and one 31' vessel, York River Charters limit the number of guests to four and six, respectively, to ensure you will have the best experience possible. Half and full day charters are available to fish for cobia, flounder, mackerel, red drum, sharks, striped bass, and more. While some species are catch and release only, you also have the option to target fish to fill the cooler and throw on the grill or pack in the freezer for later, once you get home.
Over 100 reviews rate Williamsburg Charter Sails five stars. Three hour long sailings include reservations for couples, families, or groups. Six unique types of charters are available. Whether you choose an Adventure Cruise where you are a crew member who takes the wheel, an Event Cruise to celebrate someone or something special, an Appreciation Cruise as a team building staff outing, a History Cruise, a Lessons Cruise to get your feet wet in the art of sailing, or a Boat Buyer Cruise to ensure you are prepared for what to look for when making a purchase, you will undoubtedly enjoy the experience.
What wardrobe is complete without the best brands of clothing, and what house is considered decorated without antique or unique pieces? Depending on taste, while shopping for clothing you can make your trip a one stop shop at the Williamsburg Premium Outlets or for a personal experience, consider stopping by one of the many independent fine clothing boutiques. Men, if you want your clothing to make a statement, head downtown to R Bryant Ltd on Duke of Gloucester Street in the colonial district for quality domestic and foreign clothing lines or accessories where you'll find businesses, casual, and outerwear. After on-site custom tailoring, you'll leave dressed to the nines. Women, you can try on the newest arrivals of the most modern fashions for all seasons and occasions at Three Sisters Boutique, located downtown near the College of William and Mary. Don't forget the little ones! The Carousel children's clothier, also downtown, features selections of timeless brands and contemporary styles for infants to teens. If you choose to go to the Williamsburg Premier Outlets you'll find over 100 stores featuring Banana Republic, Brooks Brothers, Calvin Klein, Coach, Kate Spade New York, Michael Kors, Tommy Hilfigir, and more.
What was once old is new again, right? You'll find an ample supply of antique shops and stores in Williamsburg. If you're looking for a single piece to accentuate a piece of furniture or to redesign an entire room, you will find something that fits the bill. Charlie's Antiques, The Goodman Home, Williamsburg Antique Mall, or Williamsburg Craft House will be the places to go find what you're looking for, and you may even come home with something you're not!
Williamsburg has the ability to boast about offering a wide array of eating establishments that include bakeries, buffets, breweries, cafes, delicatessens, fine dining, taverns, and wineries, which offer an assortment of culinary experiences. Whatever your mood may be, you can consume everything from colonial-era fare to cuisine made from more modern methods. Opus 9 Steakhouse is the perfect setting for a fancy night out or business dinner. For starters, order an appetizer of locally harvested Chesapeake Bay oysters. It wouldn't be frowned upon if you ordered another plate and didn't share. A more delicate main course of Pan-Roasted Chilean Sea Bass or their signature Oscar 9 (Steak Oscar, Filet Mignon, Grilled Portabella Mushroom, Lump Crabmeat, and Asparagus with Béarnaise Sauce) are favorites. Breaking away from surf and turf, if you're looking for a different kind of bird, give Fat Canary a try. The tender Seared Quail with Carolina Gold Rice, Chorizo, and Giardiniere or Free-Range Guinea Fowl with Parmesan Gnocchi, Garlic Rapini, and Charred Tomato will melt in your mouth. If you are looking for international provisions, French cuisine Le Yaca or La Tiena Spanish Tapas Bar will expand your palate and have you coming back for more. For a taste of colonial fare and to experience dishes of the new world, Chowning's Tavern, Christina Campbell's Tavern, King's Arms Tavern, and Shield's Tavern are all located in the colonial historic district. Other local favorites of various victuals are Amber Ox Public House, Berret's Seafood Restaurant and Taphouse Grill, Cochon On 2nd, The Hound's Tale, and Riverwalk Restaurant. Looking for a place to unwind or have an after dinner drink? 8 Shires Coloniale Distillery, Alewerks Brewing Company, Brass Cannon Brewing, Copper Fox Distillery, Silver Hand Meadery, The Virginia Beer Company, and Williamsburg Winery produce small and large batches of the best brews, liquors, meads, and wines in the region.
By now, you are well aware there is no shortage of reasons why Williamsburg wouldn't make a great destination to simply visit, or place roots for personal and business purposes. We hope you've enjoyed reading about everything Williamsburg presents!
Additional Articles