---
Charlottesville Waterfront Real Estate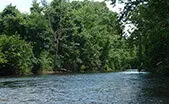 Under $300K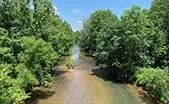 Over $300K
Featured Waterfront Properties
---
Charlottesville Waterfront Properties
Founded even before the United States declared independence from Great Britain and serving as a critical home base for Founding Fathers like Thomas Jefferson, Charlottesville has long represented America's early colonial spirit. In fact, the rolling foothills of Central Virginia have come to represent the quintessential picture of the early American project – and given the beauty of its pastoral landscapes, dotted with the peaks of Virginia's famous Blue Ridge Mountains, it's no wonder the scenery has become so iconic. And when you combine such a backdrop with the beauty and luxury of a waterfront, it should come as no surprise why Charlottesville waterfront properties are so in demand!
Though Central Virginia's waterways like the James River and its tributaries typically get all the attention, the lakes across the Charlottesville region offer some of the finest waterfront property in the state. With lakes like Lake Anna and Lake Monticello featuring peaceful natural landscapes while maintaining easy access to the city, Charlottesville waterfront properties truly offer the best of both worlds. And like local riverfronts, many of these waterfront properties offer unique opportunities for recreation – from fishing to boating and much more.
Lake Anna is just one of many lakes, reservoirs, and ponds dotting the Charlottesville area, but it's a beautiful example of everything that Virginia waterfront living has to offer. Formed by the North Anna Dam on the North Anna River, the freshwater lake has been used for decades to offer fresh, cool water to the North Anna Nuclear Generating Station – as well as offering scenic real estate for some 120 communities across its miles of shoreline.
Lake Anna is divided into two sides: the public "cold" side provides water to cool the generators as well as forming the Lake Anna State Park, while the private "hot" side receives warmer water discharge from the power plant while maintaining private access only to the gorgeous waterfront. With both sides offering incredible opportunities for recreation, it's no wonder why so many communities have formed around its shores. But the private side offers a unique distinction – because it receives water warmed by the generators, the private side offers an extended water sports season and receives high migrations of fish during the winter, ideal for water lovers and fishermen.

Charlottesville, VA Real Estate
Waterfront Living
Of course, there are many different types of waterfront living, and we're proud to offer properties to fit nearly any price point and vision. Whether you've always wanted to be right in the center of the action with your own dock, if you've always craved a peaceful corner right on the lake to make your own oasis, or if you want to be close enough to the action without the cost (and noise) of being right on the lakefront, we offer extensive listings to make your dream a reality. And with listings ranging from small boat houses and vacation homes to rustic lodges and expansive modern multi-story homes, we proudly partner with buyers across a wide range of budgets and lifestyles.
With our deep roots in Central Virginia, our team is on hand to offer years of expertise throughout the region to help you navigate the market and focus on the right areas and types of property for your needs. If you've been on the search for the perfect Charlottesville waterfront property, or even if you're just exploring your options, contact us today to schedule a viewing!