---
Northern Virginia Horse Farms by Acreage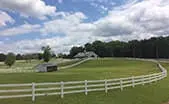 Under 25 Acres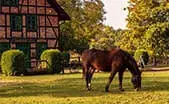 Over 25 Acres
Northern Virginia Horse Farms for Sale
Lending itself to the beauty of the land, Northern Virginia Horse Farms are scattered in the countryside as well as close to the metro area. In addition to the multiple farms, there are many opportunities to enjoy yourself outside your farm with events such as polo, trail riding, roping, and even competitive showing. Where ever your interests lay or whatever they are, there are properties for it and a community waiting for you.
The Numbers
Over 170,000 horse population
Over 700 equine events held each year
20,000 plus jobs statewide are attributed to horse owners
171 acres – average Virginian farm size
Fairfax County – home to over one million people
Northern Virginia Equestrian Lifestyle
Horse Country
Step onto your porch and view the historic and scenic beauty of your farm. Virginia is synonymous with history and horses. Aficionados can find any type of horse and for any type of purpose be it trail riding to competitive jumping. Northern Virginia includes both Fairfax, the most populated county in the state which exceeds other states total population and Loudon, the fastest growing county in Virginia. It also includes one of the United States' oldest cities, Alexandria which dates back to the early 1700s.
Why is Northern Virginia a great choice?
Rolling hills, fertile land is in your reach for your ideal horse farm. When looking, think about how many horses you want and factor in that you'll want at least two acres per horse for pasture and paddocks. It's recommended that you being in an area with other farms nearby with horses to continue to the community spirit in addition to being nearby to ride out trails if that is something you are interested in doing. Northern Virginia has so much to offer between being close to the DC metro area, great school districts, wonderful land, and amazing communities.
Items to think about before you buy:
Water sources – Where are they? Are they in the individual paddocks?
Barn design and space – Is there enough room? How old is the barn and will anything need to be replaced anytime soon?
How may paddocks – Large enough for your dream amount of horses and enough to rotate through the year?
Land – How much land do you need, do you want to build or have an existing home onsite? Does the soil drain easily, has it been used for farming the past or as pasture?
House Details

Style – Historic, Colonial, Federal, Modern, or a mix of everything?
Bedrooms – How many? Guest suite, first floor master?
Bathrooms – How many? Updated modern or farm style?
Search and Purchase with Confidence
When it comes to finding and purchasing horse farms, we have extensive experience in, not simply relying on others assertions, but really understanding the property that is being offered, what it's prospective pros and cons are, and how well it meets your needs and vision of your life. If you are interested in beginning your search, please contact us and we can get started today. Search our website to review all brand new and great listings or give us a call!
Northern Virginia Real Estate