Earhart Farm
---
Earhart Farm
$949,000
Nestled in verdant mountains, this farming property offers the abundance of bountiful natural land with the comforts of a modern home.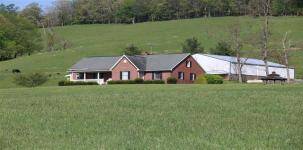 Earhart Farm – High 9-foot vaulted ceilings and skylights create a spacious environment of air and light throughout the 2112 square-foot structure, while ample window space offers stunning panoramic views of the famous Blue Ridge Mountains. With multiple finished sheds, workshops, and barns, this self-sufficient farm offers over 90 acres of lush grazing land and 40 acres of arable soil waiting to be tilled. Well-fenced and perfectly situated, this stunning land offers comfort, privacy, and undisturbed beauty.
For more information on this or other properties Call Rick Walden (434) 981-5923.
Listing Agent Gregory Keeler