Walkers Creek
---
Walkers Creek
$998,000
Surrounded by open, gently rolling fields and adjacent to a picturesque creek, this 4,220 square-foot property flawlessly melds natural beauty and structural style.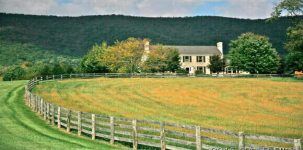 Walkers Creek – While the property boasts scenic trails and versatile barn facilities, the stunning colonial estate blends traditional comforts with modern amenities, including a spacious gourmet kitchen and luxurious poolside veranda in the backyard. Yet a second, private lakeside abode offers a rustic retreat from the stresses of daily life – the porch overlooks a tranquil private pond, nestled in the corner of the flourishing 126 acres of pristine Virginia land. Enjoy privacy, comfort, and style in this unique and grand home.
For more information on this or other properties Call Rick Walden (434) 981-5923.
Listing Agent J.F. BROWN REAL ESTATE SERVICES