Upscale Estate Home, Vineyard, Tasting Room and Acreage
---
Upscale Estate Home, Vineyard, Tasting Room and Acreage
$1,795,000
Prime acreage, estate home, organic vineyard, tasting room, vibrant market area…Briede Family Vineyard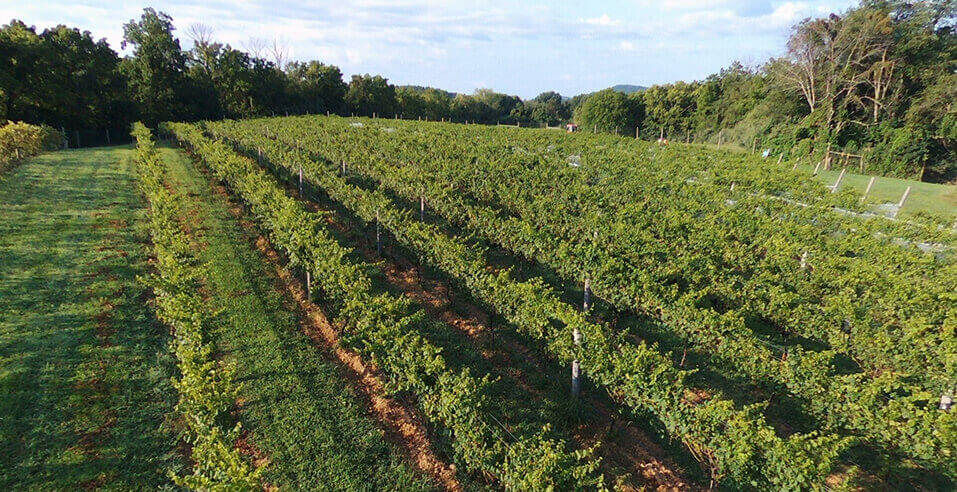 We are very proud to present an exciting and unique opportunity to own a certified organic vineyard, complemented by a newly repurposed French-country inspired tasting room structure—all on 24 acres of prime land with ample, lush outdoor spaces to accommodate special events such as weddings. The overall acreage is comprised of 4 lots—one of 5 acres with the current estate residence, and 3 others of varying acreage which are all perked for future building sites if desired—a very valuable investment aspect that could yield future economic benefits to new owners.
Located in Frederick County, VA and just 10 miles (20 minutes) from downtown Winchester, this offering is also very convenient to the Dulles/Sterling/Leesburg area (about 1 hour) as well as to the dynamic Tysons Corner/Reston mini-metropolitan area (about 1 and ½ hours).


The Organic Vineyard and Varietals:
The vineyard is only one of two USDA Certified Organic vineyards in all of Virginia! This certification reflects that these owners conscientiously adhere to sustainable practices and use only organic materials and techniques in their vineyard and have met rigorous inspection standards in their vineyard. In addition, the owners recognize the importance of maintaining a natural balance in the ecosystem on their overall acreage and, especially, in the vineyard. Toward that end they have created a large insectary nearby— planted with precisely the types of flowers that attract the beneficial (good) insects which helps minimize the prevalence of the non-beneficial (bad) insects and greatly enhances the overall health of the vineyard.
The organic vineyard consists of about 4 acres under vine—and is currently planted with two hybrids selected to thrive in an organic vineyard as well as to produce world-class wines.

The owners chose Cayuga as their white wine grape—and it happens to be a mid-season ripening grape that is a cross between Schuyler and Seyval Blanc. It has good acid balance and produces a refreshing and crisp white wine—or sparkling white wine. It tends to produce lots of clusters and the yields are huge. It is the most popular grape variety ever developed by the Geneva Wine Grape Breeding Program at Cornell University.
Arandell was the first grape of choice for this organic vineyard approach. It is a mid-season red wine grape characterized by a high degree of natural disease resistance and producing dark red wines with clean, berry aromas. Wines are densely colored, with light to moderate tannins, and exhibit notes of dark berry fruit (blueberry, black cherry), tobacco and hints of black pepper or cedar on the finish. It is moderately hardy and recommended for production under minimal spray programs, with potential for organic management. The 2017 vintage at Briede is believed to be only one of two Arandell's under cork anywhere in the world, and it is selling very swiftly in the tasting room as it has been extremely well received in terms of taste and enjoyment.

The Residence:
The centerpiece of this offering is an upscale and gracious all-brick home on a 5 acre site with a welcoming and convenient circular drive leading to the front of the home. Overall living space is 4,148 square feet (all above grade) with 9 total rooms, including 3 bedrooms and 3.5 baths. One of the bedrooms is a highly desirable and convenient first level master suite with a large dressing room area and a sumptuous full bath with heated tile floor.

Also on the main level is a separate, well-appointed dining room and welcoming foyer leading directly to a spacious and open family room with fireplace, and direct access to the rear porch and patio areas with mature landscaping and an in-ground pool—creating an ideal outdoor entertaining area.
Leading directly from the family room area is wide-open access the large and inviting chef's kitchen with custom milled woodwork, custom cabinets, center island, granite countertops throughout, and all complemented by high-end appliances. Completing the spacious kitchen area is a breakfast nook with a view to the rear pool and patio area.
Just off of the kitchen is a half-bath and separate laundry room which leads to the 2 car side-load garage.
The home also boasts a 3-zone heating system (heat pumps) security/alarm system, 2" x 6" framing used in all exterior walls for superior insulation.
Two additional bedrooms are located on the second level with 2 additional full baths, along with an open family room leading to an attached office/casual living room area that could be used as a fourth bedroom if desired.
Overall, this classic and luxurious home exudes quality and superior workmanship, with many high-end fitments and finishes and all in excellent condition.
The Newly Completed Tasting Room:
Formerly an all-brick stable, this solid and appealing structure has been repurposed and fully upgraded and tastefully outfitted as an inviting tasting room done in a French-country style that is conducive to the casual enjoyment of the fine wines and champagne on offer.

There is about 1,000 square feet of finished space on main level, and the upper level could easily be fully finished for offices, storage, or for small, intimate private tastings.
The tasting room also has a new central heating/cooling system, and there is temperature controlled wine storage and bonded storage areas. The indoor space is complemented by relaxing outdoor patio seating areas, and there is ample parking close to the tasting room building and nearby areas.
Summary:
This wonderful estate property and upscale home with an integrated organic vineyard and inviting tasting room presents an exciting opportunity to live the vineyard lifestyle while developing the full potential for the vineyard, the wines, and the special events venue—all in a country setting that is still very proximate to the vibrant and dynamic Northern Virginia market where demand for local estate-grown wines is very high and growing year to year. Please make plans to see it and experience all it has to offer by contacting:
Tyler Williams, REALTOR: ptylerwilliams@gmail.com or 703-850-4914