Stone Mountain Vineyards
---
Stone Mountain Vineyards
$1,200,000
An incredible opportunity to own 75 acres of pristine mountain land featuring panoramic views , a vineyard and a viable business with a steady income stream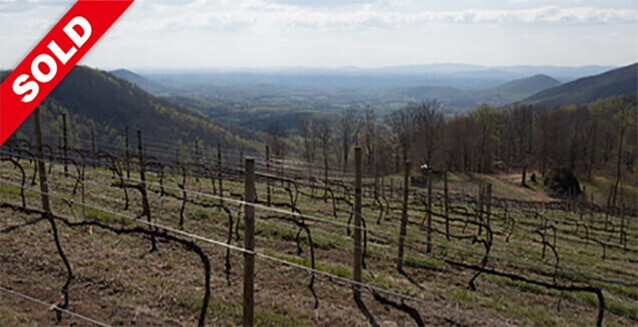 Stone Mountain Vineyards is an established, turnkey winery located at 1700', in Dyke, VA. It has been producing award winning wines, since 1995 with a recognized name, in the industry, and distributorship, in central and northern Virginia.
This is your opportunity to continue a tradition and claim your part, in the internationally known Virginia wine industry. The winery is currently a 3000 case per year operation with room for expansion. It has its own lab, bottling line, numerous tanks and a cave hewn from solid rock that maintains constant temperature and humidity.
The tasting room boasts a fireplace, tasting bar, a kitchen, numerous seating areas and decks, overlooking the 4+ acre vineyard, with magnificent views of the mountains and valley far below. There is also a two bedroom guest cottage, that sleeps eight, located within walking distance of the winery, in addition to a bedroom suite, in the winery building.
This is your chance to own 75 acres of pristine mountain land featuring panoramic views, a vineyard and a viable business with a steady income stream. You too can become part of the growing Virginia wine industry!
What people are saying about Stone Mountain Vineyards-
The best views of any winery in VA! Top to bottom some of Virginia's most consistent wines. Plus they have some varietals that you don't see at every winery (Malbec, Nebbiolo).
Beautiful winding road up to the vineyard! We loved the wines and the views!
Great tasting wine, incomparable vistas. It's a little off the beaten path but when you get there you will wonder why you hadn't come sooner. A great place to stop for a few hours, sip some fine wine and just watch the time go by!
Additional Reviews: Click here
For more information call Paul Summers (434) 566-1168.

View Printable Brochure