Sandy River Vineyard
---
Sandy River Vineyard
$299,000
Your Place in the Country with Wine Vineyard, Lake, and Acreage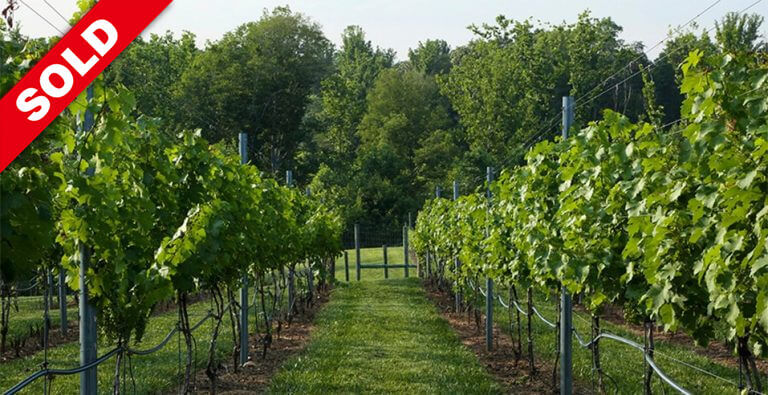 Price Reduction!
'Sandy River Vineyard'
Absolutely gorgeous property with a young producing vineyard perfectly sited above a serene and beautiful 3 acre lake and frontage on the Sandy River. This property is located in a peaceful and bucolic country setting in Pittsylvania County, VA near Danville. Yet, it is within an easy 1 hour drive of Greensboro, NC and only about 1 ½ hours from Winston-Salem or Raleigh-Durham, NC and less than 2 hours from Roanoke, Lynchburg or Blacksburg, VA; making it an ideal location for escaping on the weekends with family and friends.
The overall property consists of approximately 73 gently rolling acres which would provide ample opportunity to select a future estate home-site, while also providing opportunities in the meantime for vineyard production, recreation, hunting and/or additional farming activity.
The beautiful, young vineyard is in its third year and will now have annual fall yield (harvest). Twelve acres of the property are fully fenced with an 8 foot high, steel deer exclusion fence and it is 100% effective in preventing deer damage to the vines. Four acres are under vine, and the varietals include Cabernet Sauvignon, Cabernet Franc, and Viognier (the top- selling, top-priced wine grape in Virginia). The vineyard is fully irrigated (utilizing lake water) and the vines are on an already installed high quality post and trellis system using the VSP technique.
In support of the vineyard and overall property, there is a recently built 60' x 40' barn/utility enclosed structure with an additional 16' x 40' under roof outdoor storage area. Within the barn there is also a separate, enclosed and heated 300 square foot farm office with a full bathroom and laundry room.
So, make this your place in the country…work your own vineyard, plan your small winery and tasting room, put picnic areas down by the lake, hike, hunt , and pick out your future home site somewhere on the majestic 73 acres. It's all here and waiting…
For more information on this or other properties Call Tyler Williams (703) 850-4914.