Mulberry Farm
$2,750,000   $1,950,000
This farmstead is unlike any home or property you will come across. This property is one that will truly leave you in awe.
$2,750,000   $1,950,000


Major Price Reduction!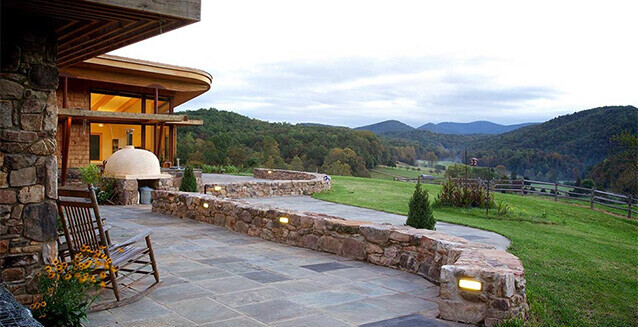 Very Motivated Seller! Major price reduction of $550K. Some level of owner financing may be considered.
'Mulberry Farm' –This incredible net-zero energy home is quite literally nestled into the hillside in Stuart, Virginia. On top of the incredible modern facet that has a throwback feel, this home is incredibly energy efficient. How efficient? Even on the coldest winter night the power of two hairdryers is all that is necessary to heat the entire home.
Built for an English family and designed by Kaplan Thompson Architects, this home is absolutely the epitome of energy efficient homesteads. In 2013 it earned not only German Passivhaus, but also LEED Platinum standards as well. The home and hillside merge together in order to maximize solar gain and fit into the contours of the Virginia hillside. The green roof was created in order to allow animals to graze right on top of it!
The home is a total of 3,600 square feet and was built in 2012 on a 104-acre parcel. There are 3 bedrooms and a beautiful outside terrace. The roof is complete with an embedded electrical field that can detect leaks over the lifetime of the house. This impressive technology has been used in parking garages and similar structures in order to pinpoint leaks that are not visible.
Built to use 90% less energy to heat than the average home its size, the heating budget is less than $500 a year! The home was also built to last. Unlike most American homes, it was built as a solid concrete structure.Water is produced the old fashioned way, directly from a well that can be found on the property. Storm water runoff is recycled and utilized for landscaping purposes. The structure was built from renewable, sustainable materials free of VOC's and formaldehyde. The flooring is made from local white oak, and black walnut from Virginia was utilized in the creation of the custom cabinetry.
This farmstead is unlike any home or property you will come across. The measure of thoughtfulness and design that went into creating a home that was energy efficient, beautiful, and useful is extremely impressive. This property is one that will truly leave you in awe.
Over 3.5 million dollars has in invested in this unique property. Possible owner financing to well qualified individuals.
Listing Agent:
Call Rick Walden at – Cell: (434) 981-5923

View Printable Brochure
More Featured Properties