Delaplane Cellars
---
Delaplane Cellars
$5,300,000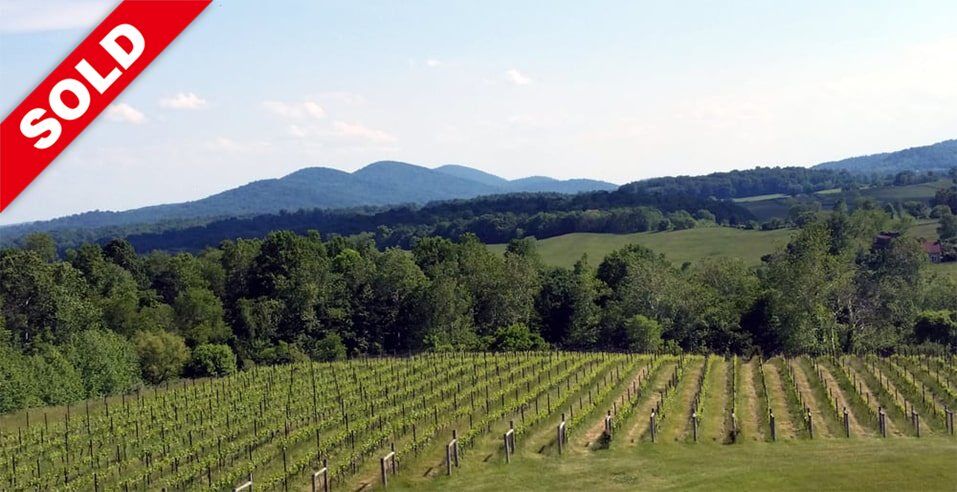 Delaplane Cellars Winery for Sale
Winery Tasting Area:
The winery tasting and production building was built in 2009/10. The winery building is a wood frame structure with cementitious exterior siding and composite shingle roof. The tasting area measures a total of 4,152 square feet with a 1,200 square foot outdoor tasting patio and a 552 square foot deck. The interior is comprised of the main open tasting area with tall cathedral ceilings and tasting bar. In addition to the main tasting area, there is a catering kitchen for event hosting and two public restrooms. The interior finishes include extensive repurposed white oak wide planked horse fencing, black walnut tasting bar and doors. The upper loft tasting area consists of additional seating and a restroom. The tasting area is environmentally controlled by ducted heat pump and central air conditioning. The interior provides comfortable seating and tasting area for guests with views of the surrounding hills and vineyards.
Winery Production Area:
The winery production area is the full lower/basement level under the tasting area and patio. The production area measures 4,080 square feet with a 2,520 square foot covered crush pad attached to the side of the building. The lower level consists of the wine lab, barrel storage and the production area which opens to the outdoor crush pad via overhead door. The processing and barrel storage area is environmentally chilled by cooling units. The interior finishes of the production area are mainly utilitarian and the 16' tall ceiling provides ample height for wine tanks.
Miscellaneous Winery Improvements:
The subject property also contains a 384 SF wood frame equipment storage building south of the residential dwelling.
Residential Dwelling:
The subject residential dwelling was built in 1987 and was fully renovated in 2007 through 2017. It is a three level federal style home with good quality finishes and construction. It consists of three finished levels which measure 4,916 SF above grade with a 2,088 SF basement. The main level consists of a great room, office, living room, dining room, eat in kitchen, large morning room/library, half bath, mud room and a two-story foyer. This level and the basement have a separate central HVAC system. The second level consists of an owner's bedroom suite with a large owner's bath, three additional bedrooms, two full bathroom and a large laundry room. This level has two central HVAC systems. The third level consist of an open finished area used as a second office and exercise room with two closets and its own central HVAC system. The basement level consists of mainly unfinished area with a 24' by 24' improved storage area which has been approved as a TTB/ABC bonded area for case goods. A whole house water treatment system and two water heaters accommodate the home. The flooring consists of extensive wood and moldings. The main and second level of the house have oak hardwood flooring except for the owner's bathroom and the third floor is carpeted. All bathrooms except the owner's bath have hardwood flooring. The great room has tall ceilings with a stone fireplace. The subject kitchen consists of good quality cabinetry and stainless steel appliances. There are extensive moldings and upgraded light fixtures throughout the dwelling. The bathrooms have tile finishes and upgraded plumbing fixtures. The dwelling is environmentally controlled by three zoned heat pumps and one split system utilizing propane heating on the main and basement level. The 520 SF two car garage is located at the end of the house. There are porches, decks and an in-ground pool at the rear with patio surround. The pool has been resurfaced and the pool equipment has been updated and replaced. The subject dwelling is in good condition and of good quality construction and finish.

Winery:
Winery Tasting Room and Processing Building
Year Built: After 2008
Condition: Good
Sales: Tasting Room sales in excess of one million
Number of Stories: 1.20 levels with full lower basement processing area.
Gross Building Area (GBA): Main Level Tasting Area: 2,880 SF
2nd Level Seating: 1,272 SF
Outdoor Tasting Patio: 1,200 SF
Rear Tasting Deck/Balcony: 552 SF
Lower Level Processing Area: 4,080 SF
Covered Crush Pad: 2,520 SF
Vineyard Equipment Shed: 384 SF
Vineyard:
11,000 vines 4/5 vinifera red and 1/5 vinifera white in 4 blocks on southwestern and western slopes. Four board fencing with wire extensions to 8 feet around the perimeter of the property.

Residence:
Condition: Good
Year Built: 1987
Full renovation
Number of Stories: 3 plus basement
Room Count: 11 Rooms, 5 Bedrooms, 3.5 Bathrooms
Above Grade Living Area:
1st Level: 2,144 SF
2nd Level: 1,848 SF
3rd Level: 924 SF
Basement: 2,088 SF Unfinished
2 Car Attached Garage: 520 SF
Porch, Deck, Patio: 1,008 SF Total
Other: 834 SF In-ground pool with patio surround.

For More Information Contact
Rick Walden
(434) 981-5923
rick@virginiaestates.com
---