Chester Gap Cellars
---
Chester Gap Cellars
$1,750,000
Stellar views, easy access to I-66 and at over 1,000 feet in elevation, the Chester Gap Cellars creates a variety of red and white wines. Check out this well-established winery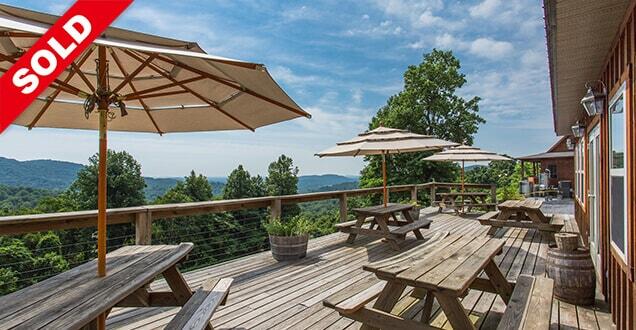 'Chester Gap Cellars' – The vineyard produces an average of 18 tons of hanging grapes and 1,000 cases per year. The 1,300ft elevation and sloped topography is ideal for frost prevention; a common issue in Virginia.
Crop Details:
7 acres planted
Vioginier – 2.1 acres
Cuvee Manseng – 1 acres
Cab Franc – 1.4 acres
Merlot – .8 acres
Petit Verdot – .55 acres
Roussanne – .7 acres
Vineyard Equipment:
New Holland 4430 4X4 Tractor with Alo Loader
Holder 1000 1 tow behind sprayer with 2 radial fans
Woods rotary mower 6ft
Fertilizer Spreader 3pt hitch
Kubota RTV 900
2 electric herbacide sprayers
Solo motorized backpack fungicide sprayer with air blower
Herbicide boom sprayer 3pt hitch
500 picking lugs
4 Remcon bins 1 ton with lids
2 Remcon bins 1/2 ton
11 T-bins 1 ton with lids
Stick welder Lincoln
Oxy-acetylen torch/ welder with tanks
Tranist
Stihl Chainsaw
Stihl weed eater
Stihl pole hedger
Liftingboom
Complete workshop with tools and extensive spare parts
Flatbed trailer 18ft, double axle
Gooseneck trailer 27.5ft plus 6ft gooseneck, double axle, enclosed with stainless steel floors. Previously used as bottling line trailer
Winemaking Equipment:
Sorting table Vaucher Beguet
Destemmer Amos A15
Destemmer Euroselect
Willmes Bladderpress all stainless steel 1000l
Spadoni Kappa Plate and Frame filter 20pl. with separator plate
2 Membrane filter housings
Hotsy Pressure washer with hot water heater
Schneider Impeller pump 1000l
Variable Frequency drive for Pump and Destemmer
5 ton Glycol Chiller 230V
3-phase Rotophase converter 5hp
All necissary fittings, clamps, gaskets and fermentation locks for all tanks
SS storage rack for fittings
3 Tapvalves 1.5″ for tacking tap fitting
23 butterfly valves 1.5″
4 butterfly valves 2″
1 ball valve 2″
Schneider Mixer
2 tankheaters for tapvalve fitting
1 binheater
Hanna turbidy tester
pH meter
Ebulliometer
Tanks – 6 x 1270l Speidel with cooling jackets
Tank – 1 x 2500l Speidel with cooling jackets
Tank – 1 x 3200l Speidel with cooling jackets
Tanks – 2 x 2000l Speidel with cooling jackets
Tank – 1 x 1300l Speidel
Tank – 1 x 1000l Speidel
Tank – 1 x 1000l Rieger VCT or solid Top, electro polished with cooling jackets
Tanks – 4 x 675l VCT Speidel
Tanks – 4 x 300l VCT Speidel
Tanks – 13 x 50l high pressure kegs (10 bar) Speidel for carbonation or topping
Gammajet barrel cleaner
Bottling Equipment:
Tardito rinser/sparger
Mori 6 spout filter
Enolta Mapan semi-automatic vaccum corker
Cirio Germano capsule spinner
Bottle Matic labeler
For more information on this or other properties Call Rick Walden (434) 981-5923.

View Printable Brochure