Chatham Hill
---
Chatham Hill
$595,900
An award-winning, boutique Urban Winery in the heart of North Carolina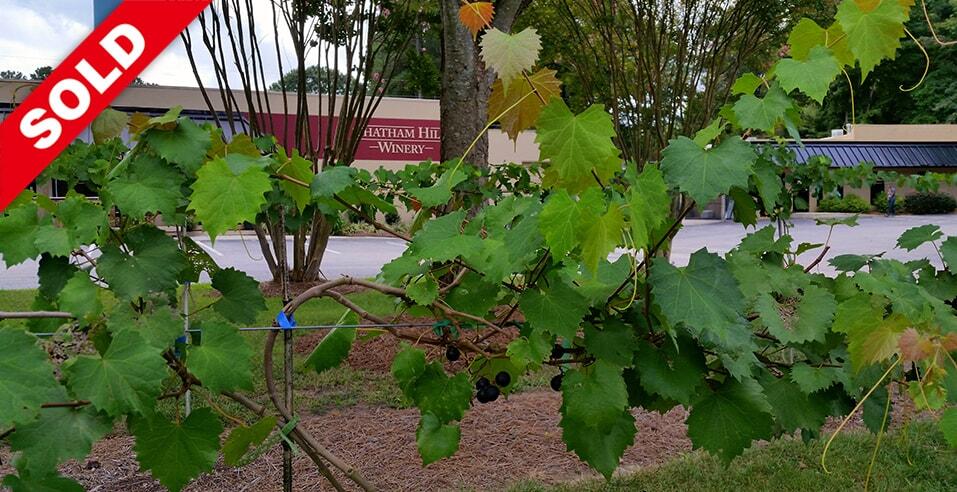 'Chatham Hill' –Presenting an exciting and unique opportunity to acquire your very own Urban Winery located in Cary, North Carolina and just moments from Raleigh, Durham, Chapel Hill and three major universities: University of North Carolina, Duke University, and North Carolina State. With a relatively robust population of high discretionary income earners and wine-lovers, there is strong demand for hand-crafted, trendy, and boutique quality wine offerings and this geographic area has become known as "the place to be" for those wishing to experience exciting culinary and cultural adventures. Thus, Chatham Hill Winery & Event Venue is the perfect fit for this vibrant and growing area.
The Wines and Winemaking: Established in 1999 as the first Urban Winery in North Carolina as well as one of the very first in the entire country, Chatham Hill has earned many awards and enjoys a well-deserved reputation for producing premium, small-batch wines which combine the very best of traditional winemaking technique with skilled innovation and experimentation. The fine wines produced at Chatham Hill prove, time and again, that a winery does not have to be located on the vineyard to make great wine!
One of the keys to Chatham Hill's business success is partnering with quality wine grape growers from five different vineyards in North Carolina, Virginia and California and then maintaining a very close connection throughout the growing season. This partnered sourcing approach allows the Chatham Hill owner/winemaker to have the final say in when to harvest in order to achieve optimal wine grape quality which contributes greatly to the award-winning, premium, European-style varietals that the "Chatham Hill" label is noted for such as Viognier, dry Riesling, Chenin Blanc, Pinot Grigio, and Chardonnay; as well many fine reds such as Merlot, Malbec, Pinot Noir, Cabernet Sauvignon, Cabernet Franc, Syrah and two unique red blends.
And, for those guests who prefer something just a little on the sweet side in terms of wine, Chatham Hill has created the proprietary "Sweet Carolina" line/label which offers a fresh, lightly sweet, fruit infused wine made from a varietal wine base. These are meant to be the perfect "porch sippers" for those warm Carolina days at the beach or by the pool and they are currently available in Peach, Blackberry, Pomegranate, Raspberry, Mango, and other fruit and mixed-fruit varieties.
In terms of capacity, Chatham Hill is currently equipped to produce up to 10,000 cases per year. The benefit of sourcing grapes, versus being dependent on its vineyard production, offers Chatham Hill the ability to adjust the quantity of purchased grapes and the volume of wine produced based on the forecast of the market.
The Tasting Room and Retail Space: he spacious and inviting Art Gallery Tasting Room is very well-appointed, and reflects the extensive investment made by the current owners with built-in cabinetry for wine display and storage, shelving and racks for wine-related retail items, a beautiful marble-topped wine tasting bar and comfortably arranged tables, chairs and barstools. This is all blended with constantly updated local art work (which is for sale) on the walls and delivers an eclectic and upscale feel to the overall tasting experience at Chatham Hill. In fact, it is such an important and integral part of the local art space that it is officially part of the well-known Cary Art Loop. Additionally, there is a pleasant outdoor deck area with tables, umbrellas and seating which is located on the front of the building, near on-site customer parking. There is an active and exciting program of Winery Events each month which can be continued and/or enhanced:
WineAway Fridays each week with live music, games, food truck specialties, etc.
Trivia Nights
Seasonal and special weekend events, tours and gatherings
Announced and publicized through the Chatham Hill website, Facebook, and local media.
Chatham Hill also has a well-established Wine Club membership nearly 500 strong (or 1,000 considering that almost all are couples) and comprised of mostly local clientele which supports repeat visits, sales, and minimizes packing and shipping effort. Of course, in such a vibrant area, there is always potential to grow wine club membership well beyond current levels.
In addition to wine sold through the tasting room, on-line, the wine club, and special events, there are existing distribution agreements in place and the Chatham Hill label (varietals) can be purchased at Total Wine & More as well as at major chain stores and private wine specialty shops. The Sweet Carolina label (fruit-infused) can be purchased at Harris Teeter, Lowe's Foods, Kroger Foods and selected Food Lion stores.
Special Events Venue: Chatham Hill is a popular and unique special events venue and can handle small weddings and rehearsal dinners, corporate events, daytime group meetings, private parties, and special gatherings. The Art Gallery Tasting Room and/or the Winemaker's Barrel Room and Winery are utilized for these events depending upon event attendance and desired food arrangements. Up to 150 guests can be accommodated using the tasting room, barrel room and winery space. The Winemaker's Barrel Room, with its "wine-centric" setting and slightly industrial cache' is a guest favorite and can handle a seated dinner for up to 25 guests. And, for a seated dinner of 100 guests, both the Tasting Room and Barrel Room are utilized; if dance floor space is desired, seating for 80 guests can be provided. Custom labels and custom wine-making capabilities are also available, particularly in connection with special events.
The Urban Winery Business Model: As touched on above, the Urban Winery model is superior in many ways to the more traditional, integrated estate vineyard/winery model. First, and perhaps foremost, the considerable capital investment in land, structures, vineyard infrastructure, roadways, storage facilities, equipment, etc. is virtually eliminated. Second, the unpredictable and serious risk severe of weather events, plant/fruit disease, and vineyard management problems are also virtually eliminated. And, third, the winery and winemaker are not constrained to produce only the varieties of wine found in the estate vineyard—the winemaker and owners are free to source the precise type of wine grape best suited to their interests and market.
Additionally, while the integrated estate vineyard and winery model is one that enjoys much cache' associated with mountain views and other bucolic country settings, the downside of such locations from a business standpoint is their remoteness from vibrant markets and customers, along with the considerable time and effort which must be devoted to travel in getting there (and back). Thus, the Urban Winery, such as Chatham Hill, is uniquely positioned to benefit from urban markets where the potential customer base is large, growing, always nearby, and typically has discretionary income for some of life's finer things—like Chatham Hill wine.
At Chatham Hill, the 7,427 square foot winery and tasting room structure is currently leased through April 30, 2019 and the lease is assignable. Leasing is a time-tested and prudent business approach which provides certain tax advantages and also bolsters flexibility. Also, the knowledgeable and experienced current owners of Chatham Hill would welcome a training/consulting arrangement with the new owners for a reasonable time period following the sale, in order to ensure a smooth operating transition and to help bolster continued business success.
In Summary: It's all here; vibrant location, turn-key and high capacity wine-making operation, reputation for superior wines, distribution agreements, on-line sales and existing wine club, healthy and positive discretionary earnings, special event revenue with growth potential, and the efficiencies, flexibility, and growth built into the Urban Winery business model. The facility, combined with the location, is uniquely set for expanding its business by addition of a food service, i.e. a bistro or cafe, and/or a production of new beverages attractive to the younger demographic. A superior opportunity!
For more information and to explore this opportunity in depth, please contact:
Natt Hall – Licensed Broker
Phone: 1-877-646-8800

View Printable Brochure