Mountain Glen
$2,250,000 $1,850,000
A spacious modern home located on 85 acres with superior vineyard and winery potential at the end of a long magnificent valley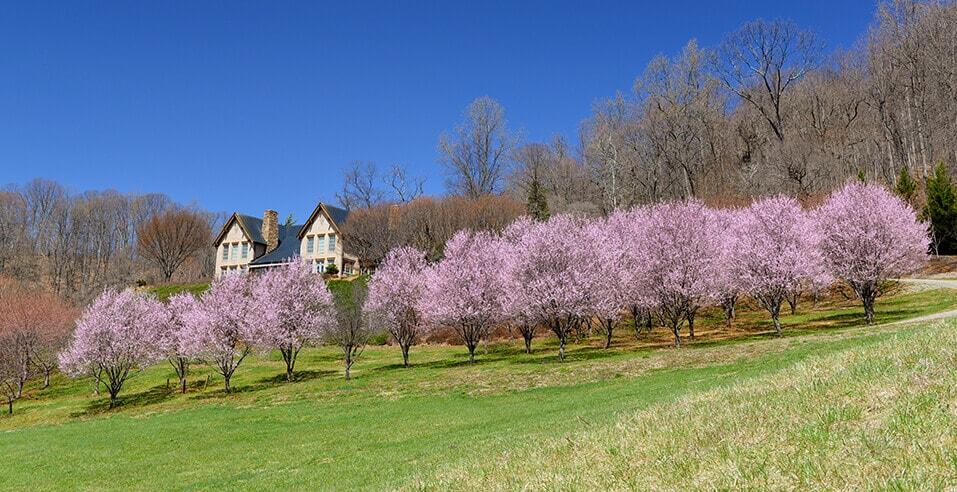 The Home
This beautiful home is a powerful expression of extraordinary architectural grace in a majestic private setting.
This home was built to the highest standards of craftsmanship, with a copper roof, stone
chimneys, custom windows and handmade doors. Constructed with the highest grade materials, including extensive use of native stone and antique
hardwoods.
Special features include white and red, random width, reclaimed Oak hardwood floors, solid white Oak doors and staircase, native Virginia
stone fireplaces and an abundance of wide windows for maximum light and ventilation. Energy efficiency and minimum maintenance were critical in the home's design.
The Land
The entire 85 acre property is perfectly situated in regard to elevation and exposure for the cultivation of the finest vinifera grape vines.
Since it is common knowledge that grape vines only thrive in beautiful elevated settings, this land will certainly produce wine of extraordinary quality.
Because of the quality of the home and the amazing setting it is in, this combination could easily become the home for Virginia's most enchanting winery or more simply, a home of glorious beauty and maximum privacy.
Additional Land Available
Price for house & the lake parcel together $2,500,000
For more information call Rick Walden (434) 981-5923.

View Printable Brochure
Take a 3D tour (Use your mouse or arrows to move through the space and look around)
Watch a Video on this Property

More Featured Properties