Please contact us for more information on why this is the absolute best time to invest in wineries, vineyards, & wedding venues.
---
Cowpasture River Farm
---
Cowpasture River Farm
Sold!
Bounded by the National Forest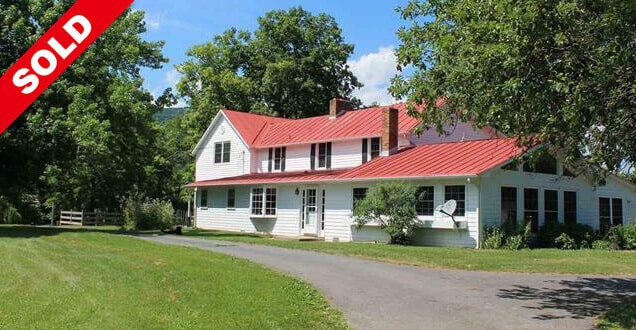 SOLD!
Available for the first time in over 40 years, the private and protected Cowpasture River Farm consists of 346+/- acres and over 2.5 miles of the pristine Cowpasture River. This is a perfect setting for a family compound. The main house dates back to 1850 when original log home was built. Major renovations and modernizations have occurred over the years, expanding to over 4200 SF. A guest house/cottage (2 BRs,1 BA ) was completely renovated two years ago. An additional single family dwelling is permissible on this property. Several useful and functional farm dwellings are located on the farm which is host to diverse wildlife and fauna, lush river bottom, pasture, and woodlands.
Property is bounded by the National Forest, a Wilderness Area just across the road protects the viewshed of this property, as does the Conservation Easement on this and an adjoining property.The beautiful long stretch of the Cowpasture, considered one of the cleanest rivers in Virginia, defies one's imagination. Virginia Estates represents you the buyer, Susan Rinehart represents the seller. #546700
For More Information
Richard Walden
Virginia Estates – (877) 646-8800