Please contact us for more information on why this is the absolute best time to invest in wineries, vineyards, & wedding venues.
---
South Creek Vineyards and Winery
---
South Creek Vineyards and Winery
$1,250,000
On 29 Acres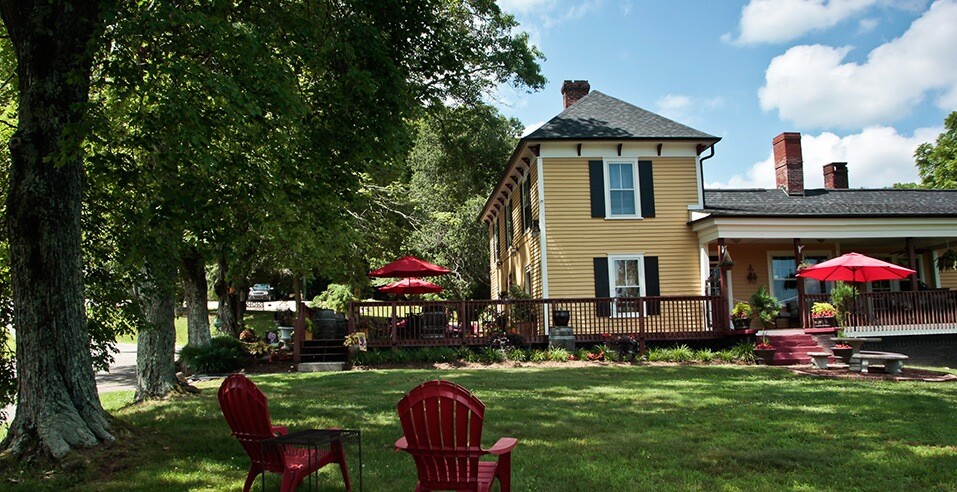 About South Creek Vineyards & Winery
South Creek is located in the Mountain Region of western North Carolina (Nebo, NC in McDowell County) an area which has historically been known as the "Gateway to the Mountains" for early westward-bound pioneers.  This area remains a nature-lovers paradise, relatively untouched by urban development with roughly 75% of the County still forested—and boasting a wide array of wildlife, waterfalls, and scenic vistas. Yet, all of this is still very accessible from major population centers—being just 30 minutes west of Hickory, 45 minutes east of Asheville, and only about 90 minutes northwest of Charlotte.  South Creek is a mere 5 minute drive from exit 94 on I-40, making drop-by tasting visits very convenient for I-40 travelers. And there are also three other wineries within 10 minutes of South Creek, which provides synergistic tasting opportunities for those planning a wine-tasting trip to this area.
And, located less than an hour from South Creek is the Tryon Resort and International Equestrian Center which hosted the very well-attended 2018 quadrennial World Equestrian Games, and brought over 500,000 domestic and international visitors to the area over several weeks. Tryon boasts two luxury hotels, upscale cabin rentals, as well as high-end shopping and dining experiences. The growth and success of Tryon Resort in general, as well as the impact of the 2018 World Equestrian Games specifically, will likely serve to raise the visibility profile for this overall area for many years to come—as a very desirable area to visit, or in which to live. Moreover, South Creek has joined with three other local wineries and has taken a half-page ad in the Tryon Resort Guidebook that is provided free to every visitor/guest as they enter the resort throughout the year.
Also, the beautiful and well-utilized Lake James, and Lake James State Park are only 15 minutes away from South Creek Vineyard & Winery.  Lake James attracts many visitors throughout the year, and also boasts several upscale residential areas with carefully controlled building requirements designed to complement the beauty of the natural surroundings.  Both tourists and residents alike at Lake James who seek a nearby, world-class wine-tasting and relaxation experience comprise a significant portion of the annual visitors to South Creek.
The Land and the Vineyard:
The underlying land at South Creek consists of 29.3 acres, with approximately 5 acres under vine as follows:  Cabernet Sauvignon, 2.5 acres; Cabernet Franc, 1 acre; Petit Verdot, 1 acre; and Merlot, ½ acre. The owner/winemaker's goal at South Creek is to produce world-class wines that will satisfy the most discriminate wine enthusiast, and this has been accomplished year after year by ensuring that only top quality fruit is utilized—both estate grown and sourced from other local vineyards—as it is axiomatic that fine wine is made in the vineyard first.
The Winery and the Wines: 
The stand-alone winery building at South Creek measures 30 x 40 feet, thus providing 1,200 square feet of climate-controlled wine-making and storage space.  This is augmented by an attached outdoor, covered, concrete crush pad measuring 20 x 30 feet which provides an additional 600 square feet of production and equipment storage space.  Actual case production has been about 800 cases annually, with a capacity to produce approximately 1,000 cases per year.
In terms of vineyard and wine-making equipment and grounds equipment, South Creek is being offered on a "turn-key" basis.  Among all of the included equipment are the following major items: New Holland tractor, 3 point hitch vineyard fan sprayer, harvest lugs and bins, fork lift, stainless steel de-stemmer/crusher, oak basket press, stainless primary fermentation tanks, centrifuge pump and hoses, 60 high quality oak barrels, complete bottling line equipment, lawn tractor, dump trailer, cargo trailer and a fully equipped 6 x 12 food concession trailer just purchased and placed in service in 2018.
The Tasting Room, Retail Lounge, and Entertainment/Event Deck Area:
Just adjacent to the home at South Creek is a very spacious outdoor finished deck facility with shaded deck seating/tables that will accommodate 30 people—and many more for stand-up events.  There is also an integrated raised stage area just off the deck with a 12 x 24 covered structure for musical entertainment—but can serve as additional seating space as well. A 10 x 10 covered pergola is also part of the deck area.  And, there is additional seating for 24 people in the very pleasant front yard area—the overall yard area could easily accommodate many more people with the included 20 x 30 tent, two 10 x 10 tents, eight portable 6 foot tables, and 24 folding chairs as events may demand.
The very tastefully appointed Tasting Room is nearly 600 square feet and is entered directly from the outdoor deck area.  The curved, granite-topped tasting bar and matching built-in hardwood wine-storage cabinetry provides for an elegant, yet relaxed tasting experience.  And, just off of the tasting room there is a very spacious and well-appointed restroom facility which is also handicap accessible.
Also with an entrance directly off of the deck area, there is a Retail and Lounge area which provides about 600 square feet of retail space for sales of wine related accessories and products.  There is also a comfortable indoor seating arrangement for relaxing and enjoying a glass or two of wine in a more intimate setting.
The above facilities along with the adjacent "Feast Eats" food trailer serve very well to support regular tasting room visitors, as well as a very robust schedule of special events with food and music throughout the season.   South Creek's event schedule is chock-full— with 4 to 6 events each month and very well attended by those seeking great wine, well matched food offerings, and all usually served up with some excellent musical entertainment and a fun time!  South Creek also has an 80 member wine club which provides a steady, reliable stream of quarterly wine sales over and above sales in the tasting room and at special events.
The Home and Residence:
Very well sited at the top of the long and fully paved entry drive, and just to the right of the ample parking area, there is a strikingly handsome and historic farm home (circa 1906) which is done in the Italianate style with Second Empire influences as well.  The veranda covered main entrance opens directly into a spacious and refined living room area, which then flows directly into the elegant, formal dining room. Just off of the dining room is a wonderful kitchen area with very tasteful, built-in custom cabinetry, granite counters, high-end appliances, custom range hood, elegantly embossed ceiling with elegant hanging light fixtures evocative of early 20th century design, and a fully tiled floor.  Directly off of the kitchen to the rear of the house is full bathroom and mud-room area which opens to the lovely rear covered veranda area, overlooking a small rear yard area and the owner's private parking area just in front of the separate garage structure. Except for the tiled kitchen, bathroom and mudroom, the entire main level flooring is the original red oak hardwood. And there are 10 foot ceilings throughout the main level, providing for an elegant and spacious feel to the various rooms.
The second level of the residence is accessed via a stairway just off of the rear of the living room, and contains the master bedroom, guest bedroom, and a full bathroom.  The second level bedrooms have original heart-pine floors, and large walk-in closets. The second level bath features a jetted tub, full-tiled shower, and double sinks with a granite countertop and fully tiled floor.
Overall, the residence contains approximately 2,000 finished square feet above grade.  In 2011, a full house renovation was completed and included these new major items: plumbing and fixtures, ceilings, drywall, roof, heat-pump, electrical system, exterior painting of house and garage, as well as installation of vinyl pasture fencing—and all done in a manner consistent with the age, architecture, and charming character of this historic farm home
The Barn and Open Pasture/Fields:
Upon entering the property and proceeding up the long paved driveway, one immediately takes note of the circa 1910 classic large red barn, with a large, colorful and distinctive "quilt barn-art" affixed to the upper level exterior.  It sets a welcoming and whimsical tone for those visiting. The upper level of the barn is approximately 1,000 square feet and is currently used for storage, but could be easily renovated to accommodate special events.
The lower level areas of the barn are currently arranged to accommodate horses, and the pasture/open fields area consists of about 13 fenced acres.  Also, there is an historic corn-crib out-building adjacent to the barn which could be converted to excellent storage space.
Summary:
Simply stated, South Creek Vineyards and Winery has it all—a pastoral and scenic country setting, accessible location, historic home and farm with equestrian elements, a mature and robust vineyard, a fully equipped winery, a richly deserved reputation for well-crafted Bordeaux style wines, a popular outdoor special events calendar, and the potential to grow sales through bringing the barn on-line for indoor special events.  This offering is truly ideal for owner/operators who may wish to live on the property (or, alternatively, lease out the residence).
While all of the above vineyard/winery/tasting room facilities are offered on a truly "turn-key" basis, the current owners are also willing to consider training/consulting arrangements for new owners who may not be totally familiar with such operations, to help ensure a smooth transition and continued success for South Creek.  This well-priced and unique opportunity awaits your special touch and talents.

For more information and to explore this opportunity in depth, please contact:

Natt Hall
Licensed Broker
1-877-646-8800