Shenandoah Vineyards
A beautiful award-winning winery in the Shenandoah Valley
$2,000,000   $1,500,000


Price Reduction!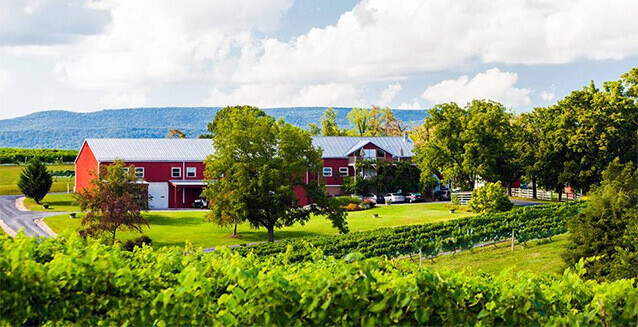 Shenandoah Vineyards – As the oldest winery in the Shenandoah Valley and the second oldest winery in all of Virginia, Shenandoah Vineyards is steeped in the rich tradition that has made Virginia wine so popular today. Virginia's rich soil and favorable climate are conducive to the growing of wine grapes and – planted in the heart of Shenandoah County – Shenandoah Vineyards may have an unfair advantage. In addition to the award-winning wines crafted in the European tradition, a schedule of events found via phone or on their website is testament to the winery's prowess.
Founded during the blossoming era of Virginia viticulture in 1976, the original vines at Shenandoah Vineyards were planted – over 5,000 French Hybrid-variety vines. To this day some of them – planted by none other than the founding Randel family – still yield the fruit of their labor. The farm in general has been in existence since the 18th century, surviving the Civil War. Even the log house in which founder Emma Randel's mother was born is inhabited to this day (by none other than Emma herself). The "Grand Dame of the Virginia Wine Industry," Emma Randel has won the prestigious Virginia Governor's Cup Gold on several occasions and myriad awards.
As for Shenandoah Vineyards itself, the Civil War-era barn's original cellar houses the barrels, and the tasting room exists just above the sturdy beams that support the rafters overhead. The vineyard covers 15 acres of prime Virginia soil and is comprised of several different varieties of grape, including Chardonnay, Riesling and Cabernet Sauvignon. Excellent water and air circulation help to produce sweet, distinctive grapes, a favorite of Virginia wine connoisseurs.
Tours available take you through every step of the production process, from the growing of the grapes to their harvesting and production and finally their home in the bottle. A beautiful and relaxing engagement, award-winning wines are yours to taste while you soak up all the knowledge you can from the expert staff. Seating is available both in and outside, including a picnic area where you can enjoy morsels either brought along from home or purchased in the gift shop.
Closely neighbored by more than five other vineyards and merely a hop, skip and a jump from Interstate 81, Shenandoah Vineyards is a logical stop for anyone on a wine tour or simply looking to explore the ripe history of Virginia viticulture and find out what makes it so popular.
For more information on this property call one of our winery sales experts:
Tyler Williams (703) 850-4914
Rick Walden (434) 981-5923
Paul Summers (434) 566-1168

View Printable Brochure