Amherst Farm
$995,000 $895,000
Spectacular Mountain Home, Expansive Acreage, Majestic Views & Lake Access
$995,000 $895,000


Price Reduced!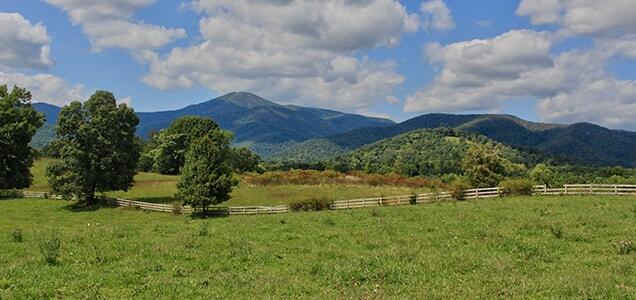 Look no further for your place in the country—it's all here! Located in Amherst County, VA with convenient access to the Town of Amherst, Lynchburg and Liberty University, Lexington, Nelson County's 151 "Brewridge", the Blue Ridge Parkway, and not too distant from Charlottesville, this nearly 200 acre property is a true gem in the beautiful foothills at the base of the Blue Ridge mountain range.
At the end of the long private entrance road, there is a very well planned and comfortable quality-built home with an open interior, central great room, dining area, casual sunroom area, first level master, and loft all evoking an inviting log-cabin ambiance inside—along with the help of two wood-burning fireplaces. The very spacious and light- filled chef-grade kitchen will delight those who love to cook—with plenty of counter space and open pantry shelves convenient for the cook to quickly and easily access.
Outdoors, there is an enclosed well-planned garden area that any Master Gardener would be proud of—along with many walking and ATV trails throughout the property. The acreage is a mix of open pasture of approximately 57 acres, along with about 140 acres of woodlands. Certain portions of the property are fenced and there is currently a small cattle-herd on those acres. Wildlife such as deer, turkey, and squirrel are in abundance and will make for splendid hunting recreation if desired. For anglers and boaters, the property boasts direct access to the 41 acre Stonehouse Lake, and the 36 acre Thrasher Lake is very nearby—both county-owned lake-park properties. Each lake boasts excellent fishing and small boating recreational opportunities for the entire family. There are also many potential spectacular home-sites on the property with majestic mountain views—if a larger home is desired.
Certain areas and elevations on the property would also be very suitable for the establishment of a wine-grape vineyard and/or hops production.
Very well-sited and nicely maintained outbuildings include a 30' x 36' Quonset hut shop structure, a rustic, but heated, bunk-house with porch, and other smaller supporting structures.
Overall, this is a wonderful and relatively rare opportunity for expansive acreage, privacy, well-cared for home, mountain views, direct lake access, and multiple future home-sites all in one offering. Please treat yourself and make plans to visit this property to see and experience all it has to offer on a first-hand basis. For more information and showing, please contact:
Tyler Williams, email: ptylerwilliams@gmail.com, cell: 703-850-4914